Toll-free numbers are phone numbers with three-digit codes that can be accessed from landlines at no cost to the caller. They allow callers to reach businesses and individuals out of the area without incurring long-distance fees.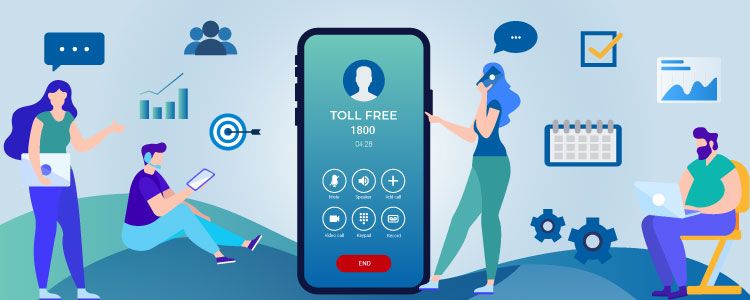 Toll-free numbers are frequently used for customer service. Traditionally, a toll-free number provides potential customers and others with a convenient and free way to contact businesses. If you do not have an "unlimited calling" plan, you will be charged for every minute of airtime you use during a toll-free call.
Businesses can also respond to text messages sent by customers using toll-free numbers, so long as those numbers are "text enabled."
Toll-free numbers are those that begin with one of these three-digit codes: 800, 888, 877, 866, 855, 844, or 833. Despite the fact that 800, 888, 877, 866, 855, 844, and 833 are all toll-free numbers, they are not interchangeable.
Let's understand the working process without getting into the technical side of it.
How does a Toll-Free Number Works?
Two aspects of toll free numbers need to be understood in order to understand their working. For starters, determine how customers can get in touch with the business via the number. The layman is interested in this non-technical aspect. As part of your promotional campaign, you will publicize your toll free number. Businesses run these campaigns to brand themselves so that customers know how and where they can contact them. A customer can call this number if they want to contact them. They are calling to connect without having to pay for the call.
On the technical side, you need to understand how this number serves your business. The toll free number provider gives you a number where the customers can call you and get an automated message. These calls can also be forwarded to local lines, so that your reps may answer (in case of voice calls) on your own landline or cellphone. This service can be helpful for businesses that do not have resources for setting up their call centers or dedicated answering services but still want to be available to their customers.
The customer dials the toll-free number posted by the company. Knowlarity, for example, routes the call to a cloud telephony provider. A business that owns a toll-free number pays an extra premium per call to cover the charges associated with that no-call cost.
As with any other number, toll-free business numbers are dialed the same way. Your landline or mobile service provider determines how much it will cost.
Another important thing to mark here is that the toll-free numbers are country-specific, so they are free of charge within a country's borders.
There are different rules for accessibility, availability, and the dialing format associated with toll-free numbers in every country. There may be international call rates incurred when those numbers are called across borders.
Application of Toll Free Numbers
Having a toll-free number is one of the most important benefits since you will never miss a call from a customer, which also means that you will never lose out on leads. Due to the availability of a toll-free number 24/7, you can easily answer customers' questions at any time and from anywhere. Sales and customer service efficiency can be greatly improved in the long run by doing this.
Toll-free numbers are typically easily remembered and recalled. They're repetitive, sequential digits or digits that "look pretty." It is easier for your customers to reach you at any time if they can remember your phone number.
Knowlarity toll-free phone systems are configured so that calls can be forwarded to any other number, like an IP phone or a landline, so your customer support reps can easily answer them. Additionally, if you move your office to a different city, country, or continent, you can take your toll-free number with you.
Today's businesses are investing in smarter and faster methods of reaching out to their customers. Businesses are striving for efficiency and lower operating costs to improve their customer experiences. Improve customer accessibility with a series of 1800 and 1860 numbers that streamline communication and provide 24/7 support. It's never been easier to provide consistent, quality service.
Let's understand the working process without getting to the technical side of things.
The customer dials the toll-free number provided by the company.
Cloud telephony companies such as Knowlarity handle the call.
They make the connection between the customer and the company.
Toll-free numbers are owned by businesses, and those businesses pay an extra premium per call to cover those no-call charges for the end customer.